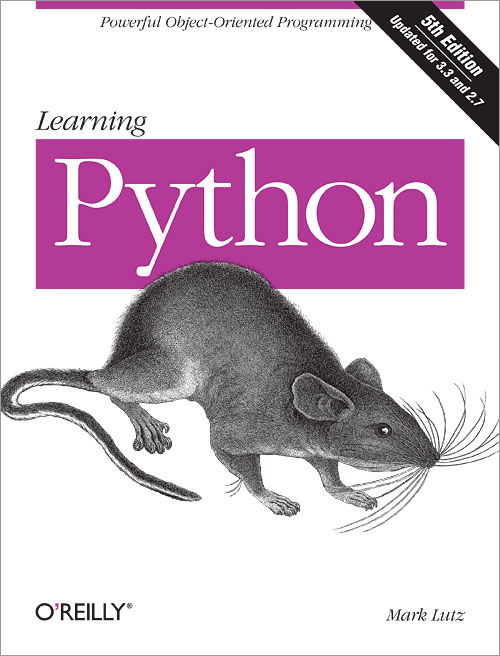 [June 2013] I'm pleased to announce the release of the 5th Edition of the book Learning Python—the most comprehensive version of this classic and foundational Python language tutorial.
This new edition, designed for all Python learners in all Python domains, has been brought thoroughly up-to-date with Python 3.3 and 2.7, and expanded substantially to reflect current practice in the Python world. Like its previous editions, this book also applies to all other Python releases in common use today. Whether you're using 3.X, 2.X, or both, you'll find this new edition tailored to your current and future needs.
Among other language extensions, this edition incorporates Python 3.3's namespace packages and Windows launcher, as well as 2.7's adoption of 3.X features such as set and dictionary comprehensions. In addition, this version has grown more 2.X compatible, and has been augmented with enhanced coverage of tools such as super(), descriptors, the MRO, and metaclasses, which have grown more pervasive in today's Python code.
As always, this book is designed to be an in-depth introduction to the core Python language, and work much like a self-paced class on Python fundamentals. With quizzes, exercises, and solutions, its material embodies nearly two decades of live Python training experience and feedback from real Python learners like you. There's more on this book's content and scope in the Previews below and its main title page.
Learning Python, 5th Edition is available in print, ebook, and online forms from all the usual places, including Amazon and O'Reilly. For purchase options and links, please see the Purchase pointers page. FAQ: there are no plans for a new edition, as noted below.